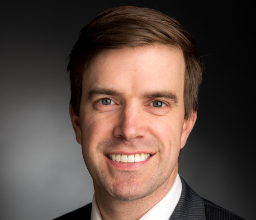 Geoffrey R. Oxnard, M.D.
Dana-Farber Cancer Institute, Harvard University
Dr. Oxnard is an associate professor of medicine at Harvard Medical School and a medical oncologist at Dana-Farber Cancer Institute specializing in the treatment of patients with non-small cell lung cancer.

His research focuses on strategies for improved understanding and treatment of lung cancer. His specific areas of research include acquired resistance to targeted therapies in lung cancer, targeted therapies and clinical trial design for rare lung cancer genotypes, the biology of lung cancer diagnosed at a young age (under the age of 50), familial lung cancer in non-smokers, and noninvasive lung cancer genotyping through analysis of free floating DNA in the blood.

He received his medical degree from the University of Chicago Pritzker School of Medicine, completed a residency in internal medicine at Massachusetts General Hospital and a fellowship in medical oncology at Memorial Sloan Kettering Cancer Center. He is board-certified in internal medicine and medical oncology.

Dr. Oxnard received the Ascelpios Award from the Bonnie J. Addario Lung Cancer Foundation in 2014; the Ellen and Stephen Fine Teaching Award at Dana-Farber Cancer Institute in 2013; the Career Development Award from the Conquer Cancer Foundation of ASCO in 2012; the Young Investigator Award from the ASCO Cancer Foundation in 2010; and the Merit Award at the ASCO Annual Meeting in 2010.