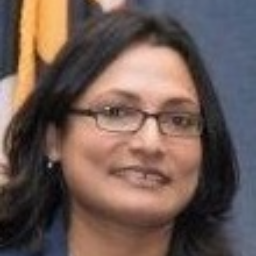 Abhilasha Nair, M.D.
Medical Officer US Food and Drug Administration
Dr. Nair is a medical officer in the gastrointestinal malignancies team in the Division of Oncology Products 2 in the Office of Hematology Oncology Products in the Center for Drug Evaluation and Research at the U.S. Food and Drug Administration (FDA). She received her medical degree from the University of Kerala and completed her internal medicine residency at the University of Illinois program at St.Francis Hospital of Evanston. She then completed a combined hematology/oncology fellowship from Advocate Lutheran General Hospital in Chicago. Following completion of her fellowship she relocated to Bethesda in 2011 to complete an advanced oncology drug development fellowship at the National Cancer Institute (NIH) working mainly with Phase I and II clinical trials at the early drug development clinic at the NIH clinical center. Since joining the FDA, she has reviewed numerous new drug applications for marketing approval in oncology including products for gastrointestinal malignancies, has co-authored manuscripts on new approvals and served on FDA guidance development committees. As scientific liaison for community oncology, Dr. Nair has worked with multiple stakeholders and the community oncologist and initiated a podcast from the FDA's Oncology Center of Excellence about new drug approvals called Drug Information Soundcasts in Clinical Oncology (DISCO) for which she also serves as a co-host.