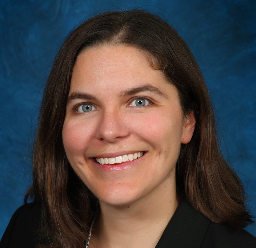 Christine Fisher
University of Colorado
Dr. Fisher is vice chair of education, associate professor and a board-certified radiation oncologist for the Department of Radiation Oncology at the University of Colorado with a focus on individualized, compassionate patient care. She completed her residency in radiation oncology at MD Anderson Cancer Center and earned her M.P.H. from the University of North Carolina, Chapel Hill, where her thesis focused on the use of brachytherapy in radiation treatment. She has worked in an immunology laboratory focusing on clinical trials with immunomodulation via novel vaccine therapies in a Phase I and Phase II. Her clinical interests include using radiation in higher doses for better tumor control and outcome, using both brachytherapy and stereotactic techniques.
She has published more than 100 publications including scientific articles and book chapters with a focus on women's cancers, and regularly presents her research at national and international scientific meetings. She is the principle investigator on multiple trials in breast and gynecologic cancer focusing on giving the best care to each patient. She has a strong interest in health outcomes, comparative effectiveness, and using all available data to select the best treatment individually for each patient.
Dr. Fisher is honored to serve on the National Comprehensive Cancer Network guidelines committee for cervix, uterine, and vulvar cancers, helping design national guidelines for practitioners to use in these challenging diagnoses. She is an IDEA Mentor for the American Society for Clinical Oncology, helping train oncologists from low- to middle-income countries in delivering efficient, data-driven care. She serves as a Chartrounds expert in gynecologic cancer and has supported Chartrounds India to bring advanced cancer care to this country, with a special focus on cervical cancer treatment and outcomes.
She currently serves as director of the Brachytherapy Program and as residency program director for the Department of Radiation Oncology. She is co-director of the Women's Cancer Developmental Therapeutics Program focused on advancing cancer outcomes and patient access to novel clinical trials.