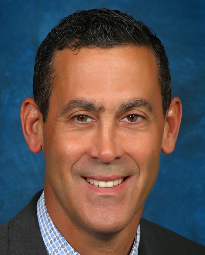 David Raben (MD, FASTRO)
University of Colorado Denver
David Raben, MD, FASTRO is a board-certified radiation oncologist and has served as an associate member of the University of Colorado Cancer Center, currently holding an adjoint professorship having recently held the Marsico Family Endowed Chair for Head and neck Cancer Research.
He received his undergraduate degree at Duke University (1981-1985) and his medical degree from Wake Forest University Health Sciences Center (1985-1990). Motivated along with his twin brother by their father's leadership in Radiation Oncology they both elected to pursue oncology training. Residency training in Radiation Oncology was conducted at the John Hopkins Hospital (1991-1994). He took his initial faculty position at the University of Alabama at Birmingham from 1994-1998 heading the GI tumor working group and receiving an ACS translational oncology grant to study use of anti-EGFR strategies against brain tumors. He joined the faculty at the University of Colorado in 1998, an NCI-designated Comprehensive Cancer Center (UCCC) and was a member of the Lung, HN Cancers Program of the UCCC. Professor Raben has extensive expertise in the management of HNC, Lung, Prostate and Bladder cancer. Dr. Raben has developed an interest in understanding how underserved cancer populations are impacted and thus served as a co-investigator on a PCORI grant awarded to investigate symptom evaluation and intervention for underserved patients with HN and lung cancer as part of a commitment towards inclusivity in clinical trial eligibility. 
From an academic research perspective, his focus has been on laboratory discoveries related to radiation interactions with immune enabling drugs as well as DNA repair inhibitors and agents that affect TGFb signaling in HNC. He was a co-investigator on an RO1 funded grant that investigates combinations of anti-TGFb and checkpoint inhibition in orthotopic and transgenic HNC mouse models. Most recently, he along with the HNC research team was awarded the prestigious Specialized Programs of Research Excellence (SPORE) grant in HNC with his project having focused on combinatorial approaches to affect the tumor microenvironment to enhance anti-PD-L1 response. He led efforts to develop the first radiation Phase I Drug Development program at CU and initiated and completed multiple Phase I trials in HNC and Lung cancer both is earlier and later stages of disease.
From a national perspective, Dr. Raben served on the NRG Oncology head and neck steering committee for the past 15 years. He also served as the Developmental Therapeutics Co-Chair at the NRG over the past 6 years turning it into a full committee. In addition, he has served on the bi-annual ASTRO Multidisciplinary HNC Symposium planning committees and was the President of this meeting in 2014. Dr. Raben is an active member of the American Head and Neck Society and the AACR and served on the steering committee for the recently completed AACR-AHNS Head and Neck Cancer meeting in 2019. Dr. Raben is a long-standing member of IASLC. As part of his commitment to teaching and service, he participates as an ASCO Ambassador for Multidisciplinary Cancer Management Courses (MCMC) to help educate underserved areas internationally. He is an ad hoc reviewer for high impact journals such as Journal of Clinical Oncology, JAMA Oncology, Oral Oncology, Head and Neck, Int. Journal of Radiation Oncology Biology Physics, Clinical Cancer Research and Cancer Research and was an editor for the ASCO Daily News in 2018-2019. He has authored over 175 publications.
Pharmaceutical Experiences: Although Dr. Raben experienced considerable success and enjoyment in academic medicine, he was drawn to pharmaceutical drug development and the significant potential to impact the patient journey. His first sabbatical was in Naples, Italy working closely with Fortunato Ciardiello, MD, PhD and Giampaolo Tortora, MD, PhD in 2001-2002 to study the combinations of Iressa and Zactima in locally advanced lung and HNC which culminated in several Phase I-II trials in lung and HNC. In 2007-2008, David contracted with Astra Zeneca Early Drug Development in Alderley Edge, UK where he led efforts to integrate radiation as a means to enhance drug development in areas such as DDR, VEGFR/EGFR, MEK and Src kinase inhibition. This was an opportunity to better understand the science and the opportunity to impact earlier stage disease with the pre-clinical and clinical development teams. This enabled critical experience in key aspects of drug development including clinical pharmacology, biomarker development, and exploratory trial design. After a return to academics at the University of Colorado he initiated and designed a Bayesian Phase I trial, based on promising pre-clinical data, combining Olaparib, cetuximab and radiation in high risk, heavy smoker patients which demonstrated important hypothesis generating biomarker data to predict response to PARP inhibitors and the discovery that a significantly lower dose was required of Olaparib when combined with radiation. 
With the rapidly rising tide of immunotherapeutic breakthroughs, Dr. Raben was invited to return to AstraZeneca in late-stage development in 2015-2016 for a 12-month secondment where he was tasked with deriving a cohesive strategy centered around the combination of radiation or chemo-radiation with checkpoint inhibition in earlier stage disease for lung, HNC and bladder cancer. This included an in-depth analysis of the competition and treatment gaps that resulted in development of innovative exploratory  and regulatory focused clinical trials within the AZ portfolio. Key Phase III trials were developed and subsequently initiated that included PACFIC 2, 4 as well as combinatorial trials such as COAST to improve upon the results of PACFIC 1 that transformed Stage III lung cancer management. He also led efforts to complete trial accrual for Eagle and Condor leveraging KOL relationships to bring both to completion several months early. Dr. Raben gained valuable experiences working alongside translational and early drug development teams, cross functional teams and contributed to medical monitoring during this time as well for the Eagle study.
With these valuable experiences in early drug and late-stage development and coupled with his extensive clinical experiences in aerodigestive track cancers, Dr. Raben wanted to apply what he had learned more directly to late oncology development programs. In this regard, he joined Genentech (2019-2021) tasked with leading the strategic clinical oversight of late-stage development portfolio in areas that included lung, head and neck, skin, tumor agnostic and rare cancers as well as precision medicine programs including entrectinib,  alectinib and the B-FAST liquid biopsy platform. As a member of the Oncology Leadership Team, he was accountable for ensuring seamless cross functional and external interfaces to explore new scientific discoveries for regulatory indications.  
Dr. Raben was known as a person who brought service leadership and humility to his role at Genentech while leading a global team of over 50+ employees and 6 direct reports. Looking to clear the path, he placed strong emphasis on empowerment, trust, as well as career development and talent acquisition initiatives focused around diversity and inclusivity. Following the VACC model of leadership he enjoyed mentoring, supporting and coaching global development leads with open communication and aligned visions. He developed key relationships with the early drug discovery and immunotherapy teams that led to borderless collaborations to accelerate exploratory and regulatory clinical trial development. As an example, he championed and empowered his teams through the development and implementation of over 7 Phase II-III trials with Tirogolumab combinations over a 20-month period. Dr. Raben initiated and implemented novel immunotherapy combination with radiation in the acquired resistance and neo-adjuvant settings to attack gap areas for registrational pathways. He oversaw impactful filings and subsequent regulatory approvals of Phase III trials such as IMpower 110, BTD submitted and awarded for Cityscape and the recent RTOR filing for IMpower 010 demonstrating transformative cancer survival benefits with the use of Atezolizumab in the lung adjuvant setting for Stage II-III disease.  Demonstrating a OneRoche mindset, Dr. Raben was appointed to leadership roles on committees focused on cross functional integrations with FMI and Flatiron, as well as external scientific council roles at LUNGevity and FOCR, the latter centred around biomarker development across industry in areas such as ctDNA. Finally, he was appointed to a leadership committee in efforts to improve diversity and inclusion roadmaps for underserved patient populations as well as internal efforts to bring in diversified talent in oncology. Throughout his career, Dr. Raben's vision is one that has always sought to challenge dogma, enable risk taking and empower his colleagues and teams to transform the patient journey with transformative molecules.