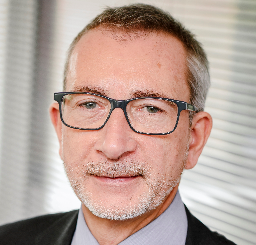 Denis Lacombe, M.D.
European Organisation for Research and Treatment of Cancer
Dr. Lacombe is director general of the European Organisation for Research and Treatment of Cancer (EORTC). He is involved in the coordination and administration of all EORTC activities in order to promote the EORTC as a major European organization in cancer clinical and translational research and is responsible for the organization of scientific activities, public relations and strategies as defined by the EORTC board, and for internal and external communications.
Dr. Lacombe joined the EORTC in 1993 as a research fellow and was involved in the conduct of clinical research from protocol development through publication for a number of oncology indications from phase I to phase III. He also contributed to the strategic evolution of the EORTC pan-European clinical and translational research infrastructure by setting up various supportive assets such as regulatory and pharmacovigilance expertise as well as partnership models with the pharmaceutical industry.
He received his medical degree from the University of Marseilles, France, and completed a fellowship in pharmacology and pharmacokinetics at the Roswell Park Cancer Institute in Buffalo. He then worked as a clinical research advisor in charge of the development of a new drug in oncology in the pharmaceutical industry. He is the author of well over 104 peer-reviewed publications and communications that have had a positive impact on the future of cancer therapy.