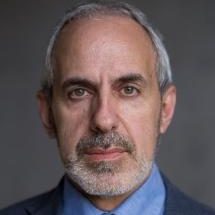 Greg Simon
Executive Director Cancer Moonshot Task Force
Cancer Moonshot Task Force
Greg Simon is executive director of the Vice President's Cancer Moonshot Task Force. As executive director he will oversee a group of government agencies charged with making recommendations on how to advance understanding of cancer, speed up treatments and improve patient care.
Simon previously served as senior vice president of worldwide policy and senior vice president of patient engagement at Pfizer, Inc. Most recently, he was chief executive officer of New York-based Poliwogg, a company that invests in the life sciences sector of healthcare. In 2003, he founded the not-for-profit FasterCures, a center of the Milken Institute that aims to speed up and improve medical research.
Simon was appointed to his current position in March by Vice President Joe Biden. He previously served as chief domestic policy to Vice President Al Gore.
He received his Juris Doctorate from the University of Washington, Seattle, and his B.A. in history form the University of Arkansas.