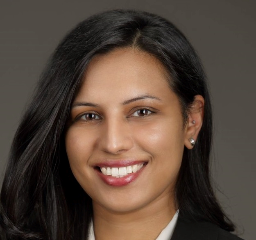 Harpreet Singh, M.D.
U.S. Food and Drug Administration
Dr. Singh is a medical oncologist at the U.S. Food and Drug Administration (FDA) with an emphasis on cancer in older adults. She continues to see patients in a prostate cancer multidisciplinary clinic at the National Cancer Institute. She is native of Los Angeles and graduated from the University of California, San Diego before completing her medical degree at the University of Southern California Keck School of Medicine. She completed her internal medicine residency and geriatrics fellowship at the Los Angeles County + University of Southern California Medical Center. She then went on to the National Cancer Institute at the National Institutes of Health for a fellowship in medical oncology. She focused on tumor immunology and biology, including cancer vaccines and immunotherapy clinical trials. Dr. Singh joined the FDA as a medical officer in 2015, where she quickly established herself as a leader in geriatric oncology. She is currently the scientific liaison for cancer in older adults. She has presented research at major conferences, including the American Society for Clinical Oncology and the American Society for Hematology. Dr. Singh is an active member of the Cancer and Aging Research Group, a dynamic group of geriatric oncology researchers across the nation who work in a collaborative effort to design and implement clinical trials to improve the care of older adults with cancer. She has been working actively with ASCO and other key stakeholders to increase the evidence base for treating older adults with cancer.