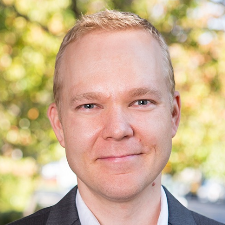 Justin Odegaard, M.D., Ph.D.
Guardant Health
Dr. Odegaard is vice president of clinical development and a laboratory director at Guardant Health where he oversees clinical strategy; clinical trial operations including design, execution, and submission of strategic clinical studies; and clinical laboratory testing including clinical aspects of assay development and validation, regulatory submission and medical policy. His research focuses on the development and clinical application of circulating tumor DNA diagnostics.

Prior to joining Guardant Health, Dr. Odegaard led clinical development and laboratory testing at Lifecode, Inc. and was an assistant professional researcher at the University of California San Francisco.

Dr. Odegaard is a board-certified surgical and molecular pathologist trained at Stanford University, where he remains an adjunct clinical assistant professor of pathology specializing in molecular diagnostic development and circulating tumor DNA.