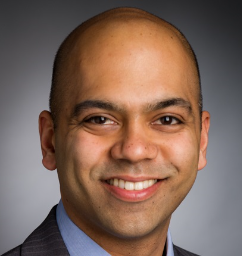 Nikhil Wagle, MD
Dana-Farber Cancer Institute
Nikhil Wagle is an pssistant Professor of medicine at Harvard Medical School, a medical oncologist at Dana-Farber Cancer Institute, and an associate member of the Broad Institute of MIT and Harvard. He is the deputy director of the Center for Cancer Precision Medicine at Dana-Farber Cancer Institute. He received his M.D. from Harvard Medical and completed his residency training in internal medicine at Brigham and Women's Hospital, where he also served as chief medical resident. He completed his fellowship training in hematology/oncology in the Dana-Farber/Partners program.
Dr. Wagle leads a translational research program in the field of breast cancer genomics and precision cancer medicine. The major goals of his work are to better understand the biology of metastatic breast cancer and to develop new ways to overcome or prevent drug resistance in patients with advanced breast cancer. Ultimately, his research aims to identify characteristics of tumors that might improve clinical decision making for patients with advanced cancer.
He also leads The Metastatic Breast Cancer Project, a nationwide direct-to-patient research initiative that engages patients with advanced breast cancer through social media and seeks to empower them to accelerate cancer research through sharing their samples and clinical information. The project's outreach program, developed in collaboration with advocacy organizations and patients, serves to connect thousands of patients around the U.S. with metastatic breast cancer research, allowing them to participate regardless of where they live.