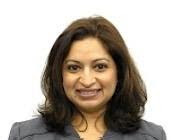 Rasika Kalamegham (PhD)
Rasika Kalamegham, Ph.D, is Executive Director and Head of U.S. Regulatory Policy at Genentech, a member of the Roche Group. She joined Genentech in 2015 bringing considerable, scientific, regulatory and policy experience to her role.  Her portfolio includes personalized medicine including cell and gene therapy. Rasika has recently been focused on influencing FDA's regulation of digital health – from SaMDs to development of novel digital endpoints to decentralized clinical trials. 
A geneticist by training, she studied cell-fate specification during her post-doctoral work at the NIH.  She then worked in increasingly senior positions at Friends of Cancer Research (FoCR), The Pew Charitable Trusts and The American Association for Cancer Research (AACR) before joining Genentech.
She plays an active role in many trade groups including BIO, PhRMA, Transcelerate, Decentralized Trials and Research Association (DTRA)  and Alliance for Regenerative Medicine (ARM) and serves in leadership positions on several workgroups. 
Her work has led to important regulatory policy outcomes including FDA guidances (Codevelopment of Two or More New Investigational Drugs for Use in Combination, Use of Public Human Genetic Variant Databases to Support Clinical Validity for Genetic and Genomic-Based In Vitro Diagnostics etc.), passage of the Generating Antibiotics Incentives Now or GAIN Act (signed into law by President Barack Obama), Research to Accelerate Cures and Equity (RACE) for Children Act, Vice President Biden's Cancer Moonshot Initiative and others. 
She is widely published in peer-reviewed journals and has authored several text book chapters.
Rasika and her husband Jim reside in Washington, D.C with their recently adopted retired racing greyhound Fynn and her sourdough starter Ffyeasty.