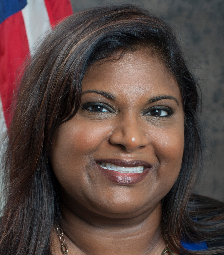 Salina Miller, M.S., M.B.A.
U.S. Food and Drug Administration
Salina P. Miller, is manager of the U.S. Food and Drug Administration's (FDA) Patient Representative Program®, within the agency's Advisory Committee Oversight and Management Staff (ACOMS), under the agency's Office of the Commissioner (OC). She joined ACOMS as a health programs coordinator in 2018 and, prior to that, was within the OC's Office of Health and Constituent Affairs, where she served as the primary patient advocacy lead for neurology, psychiatry and anti-malarial-related issues. During this time she began work on the FDA's Patient Representative Program, the agency's flagship initiative that ensures patient perspectives are included in the medical product review process. As manager, Miller responds to the needs and requirements of patient representatives for all of the agency's medical product centers.
Prior to the FDA, Miller was with the Agency for Healthcare Research and Quality for nearly 18 years, where she worked on patient safety and medical errors issues. She received an M.S. and an M.B.A. in biotechnology from Johns Hopkins University.