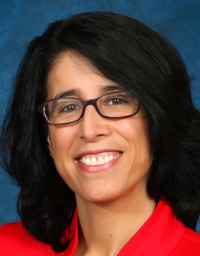 Sana Karam, M.D., Ph.D.
University of Manchester, U.K.
Dr. Karam is an assistant professor in the Department of Radiation Oncology at the University of Colorado. Her clinical and research interests are focused on developing novel therapeutics for radiosensitization of head and neck cancers and improving the quality of life of patients afflicted with this disease. 
Dr. Karam obtained her medical degree and residency training in radiation oncology from Georgetown University. She holds a bachelor's degree from the American University of Beirut, a master's degree from the University of Maryland at Baltimore, and a Ph.D. in physiology and biophysics from the University of Washington in Seattle.