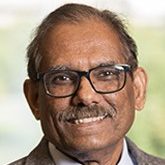 Sudhir Srivastava
National Cancer Institute
Dr. Sudhir Srivastava has led the Cancer Biomarkers Research Group since 2000, focusing on the study of early cancers and how to detect them. He played a major role in establishing guidelines for diagnosing a specific type of colorectal cancer.
He's received many awards and, notably, was the first Asian American non-M.D. to join the American Joint Committee on Cancer in 1995. There, he pushed for the inclusion of tumor markers in cancer staging. Dr. Srivastava has been behind numerous research innovations and has organized key conferences on cancer detection.
He's published over 170 papers, edited four books, and is involved in several reputable journals. His educational background includes degrees from Johns Hopkins University in biological science, computer science, and public health.