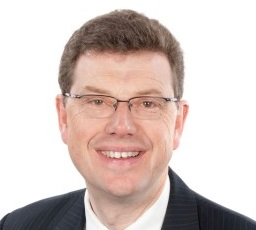 Tim Illidge, MBBS, Ph.D.
University of Manchester, U.K.
Dr. Illidge is professor of targeted therapy and oncology in the Division of Cancer Sciences at the Medical and Health Sciences University of Manchester, and leads the Translational Targeted Therapy Group, Cancer Research at the UK Manchester Institute. He earned his medical degree (MBBS) from Guy's Hospital, London, training in clinical oncology and tumour immunotherapy, and received his Ph.D. at the University of Southampton.
In 1994 he was appointed a Cancer Research UK clinical fellow and in 1997 was awarded the Young British Cancer Researcher of the Year followed by a Senior Fulbright fellowship which enabled him to work in immunology at Stanford University. He returned to the UK as the first CRUK senior clinical fellow and became a senior lecturer at University of Southampton and subsequently a personal chair in 2003. In 2004 he was appointed Professor of Targeted Therapy and Oncology at University of Manchester. The translational research programme is based around radiotherapy and immunotherapy combinations, funded by a CRUK programme grant.
He chaired the UK NCRI Clinical and Translational Radiotherapy Group from 2010-2013 and remains on the steering committee. He has published extensively and was awarded the Cancer Researcher of the Year by the University of Manchester in 2012, and Researcher of the Year for the Faculty of Medical and Life Sciences in 2013. He led the Radiotherapy Related Research Group of the Manchester Cancer Research Centre from 2007-2016, overseeing a large increase in research staff.