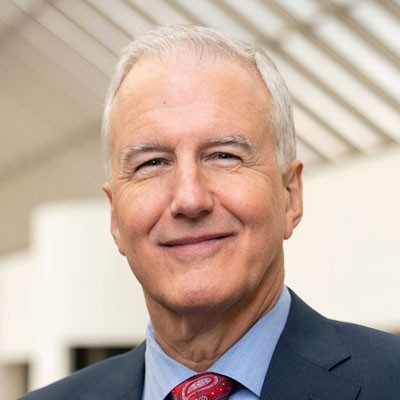 William (Bill) G. Cance
Chief Medical and Scientific Officer, American Cancer Society
William G. Cance, MD, chief medical and scientific officer for the American Cancer Society, is a renowned surgical oncologist and physician-scientist, transformative leader, and champion for innovation. He leads the Society's scientific and medical strategies and manages its research and cancer control departments, providing leadership to areas including intramural and extramural research; prevention and early detection; patient and caregiver support; global cancer control; and health systems engagement. In support of the organization's mission, asd Dr. Cance leverages the Society's rich history of research innovation and cancer control expertise to promote health equity and bring innovation to patients faster.
The American Cancer Society named Dr. Cance to the position in 2019. Prior to joining the Society, he was deputy director and interim director of the University of Arizona Cancer Center, where he led the integration of the university's Tucson- and Phoenix-based research programs and guided the partnership between the Cancer Center and Dignity Health/St. Joseph's Hospital and Medical Center. Dr. Cance was also the Finley & Florence Brown Professor of Cancer Research at the University of Arizona; Professor, interdisciplinary oncology and Professor, surgery at the University of Arizona College of Medicine-Phoenix; and Professor, pharmacy, and toxicology at the University of Arizona College of Pharmacy. He was chair of the Arizona Cancer Coalition for the Arizona Department of Health Services, during which he focused on promoting programs that addressed cancer disparities in underserved populations.
Dr. Cance is a practicing surgical oncologist. His areas of expertise include thyroid cancer, parathyroid disease, and advanced gastrointestinal malignancies. He is the principal investigator for a 25-year National Cancer Institute (NCI) grant focused on focal adhesion kinase, a protein involved in cancer metastasis. He is a former American Cancer Society grantee and has received additional grant funding from the NCI, National Institutes of Health, and US Department of Defense. He holds eight patents and has been involved in several entrepreneurial projects to bring his research advancements to market.
Dr. Cance earned undergraduate and medical degrees from Duke University. He completed a residency in general surgery at Barnes-Jewish Hospital/Washington University School of Medicine and a fellowship in surgical oncology at Memorial Sloan Kettering Cancer Center.