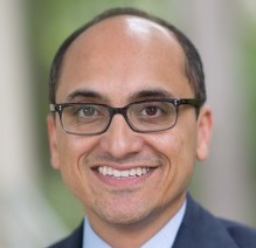 Yousuf Zafar, M.D.
Duke University
Dr. Zafar is a gastrointestinal medical oncologist and healthcare delivery researcher. He is an associate professor of medicine and public policy at the Duke Cancer Institute and the Sanford School of Public Policy at Duke. He serves as director of the Center for Applied Cancer Health Policy at the Duke Cancer Institute. He also serves as clinical associate director of Duke Forge (Health Data Science Center).
Dr. Zafar's research explores ways to improve cancer care delivery with a primary focus on improving the affordability of cancer treatment. He approaches this issue from both patient-based and policy perspectives. He has over 80 publications in top peer-reviewed journals including the New England Journal of Medicine, the Journal of Clinical Oncology, and JAMA Oncology.
He received his medical degree from the University of Toledo, and completed his residency at the University of Cincinnati and a fellowship in hematology/oncology at Duke University.